Fair Chance Project – celebrating 5 Years
San Pedro Attorney Don Hammond is happy to celebrate five great years working with the Fair Chance Project, and the Youth Justice Coalition at Chuco's Justice Center in Inglewood, California.
san pedro parole attorney fair chance project
Over the last five years, Mr. Hammond has participated in the evolution of the Fair Chance Project from a group of lifers swapping stories and helping family members of current lifers understand the parole process, into an organization of action.  We now have several programs that help lifers prepare for parole hearings, and help liberated lifers successfully transition back into society.  We're working to change the image of former inmates in the community, through a variety of programs that help them fulfill their desire to give back and make up for some small portion of what they took from society long ago.
The Fair Chance Project team has been invaluable to Mr. Hammond's pursuit to connect his clients with resources to help them succeed.  Having a complete network of resource providers and people who have made the successful transition back into society is incredibly useful to Mr. Hammond's clients.  At a recent parole hearing, Mr. Hammond's client had letters from three different Fair Chance Project members, representing different services that the program provides.  The Board of Parole Hearings was very impressed by these letters and the comprehensive involvement of the Fair Chance Project in supporting people who are making the transition home from state prison.
Programs
The Fair Chance project hosts a variety of programs that are provided to the community by liberated lifers and their supporters.  For more information, contact us or the Fair Chance Project office.
Walking the Yard is a program led by liberated lifer (and former client) Charles McCarns.  Old time lifers volunteer to mentor younger inmates.  The old-timers show the youngsters the ropes and help them how to thrive within the confines of the prison.  Younger inmates learn how to navigate day-to-day life inside the walls, how to stay out of trouble, and how to improve their lives through the opportunities that are available to inmates.  This helps the younger inmates prepare to someday go home.
Through doing this volunteer work, the mentors also learn more about themselves and foster their own desire to give back.  They receive a certificate of appreciation and support letters that help them in their own pursuit of freedom.  The California Board of Parole Hearings looks favorable on these certificates and support letters when considering an inmate for parole.
Brush of Kindness
Brush of Kindness is a handy-person program where formerly incarcerated men and women, along with other members of Fair Chance Project, volunteer to work on someone's house.  Typical beneficiaries of the program are ill, elderly and others who are unable to do minor clean-up and repairs to their homes or yards.  The program is one way of "giving back" for those who once harmed their communities and are now determined to rebuild them.  Volunteers have basic skills in carpentry, electrical work, gardening and painting.  But more importantly, they have the will to rebuild and to aid those in need.
FREE Legal Clinic
Fair Chance Project
The Fair Chance Project Legal Clinic is held on the second Saturday of each month, from 10am to Noon at Chuco's Justice Center.  Mr. Hammond is the clinic director, and answers questions about parole preparation, writs of habeas corpus, conditions of confinement, and anything else that walks in the door.  Three volunteer, former-inmate paralegals, and often other guest attorneys also participate.
An additional legal clinic is hosted at Chuco's Justice Center on the fourth Saturday of each month, from 10am to Noon, focusing on expungement and Prop 47 issues.  Mr. Hammond sometimes attends in this clinic and is always available to answer any questions that the clinic hosts have.
Food Distribution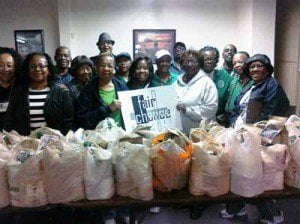 fair chance project food distribution
Also on the second Saturday of every month, the Fair Chance Project distributes 1,000 pounds of food between 10am and Noon.  Every Monday morning, Fair Chance Project distributes an additional 300 pounds of food.  FCP requests a $3 donation, and people walk away with several bags of food.
Welcome Home Resource Fair
On the fourth Saturday of each month, Fair Chance Project hosts a resource fair for people recently released from state and county institutions.  Resources include health care, housing, job training, housing opportunities, substance abuse treatment and much more!  If you or someone you know has recently come home, come on by to see how we can help!  The resource fair is hosted at Chuco's Justice Center in Inglewood, CA.
L.E.A.P.P. — Learning Everything About the Parole Process
A liberated lifer and his wife share their experience with the pursuit of a favorable parole suitability decision.  They discuss preparation for parole hearings, documentation and presentation of an inmates positive prison record, and how to find resources to shore up an inmate's post-release plans.  Anyone with a loved one who is coming up for parole is highly encouraged to attend this workshop and get their questions answered.  Understanding the parole process is a major key to getting found suitable for parole.  Let these veterans of the process help you understand what it takes!
Get Involved!
You can get involved in this great organization by becoming a member for $25 per year.  Other donations are gladly accepted.  Give them a call at 310-677-7445
Supporting Fair Chance Project is as easy as shopping on Amazon!  Use this link to start your shopping experience and a portion of your purchase will go to Fair Chance Project!
Come on by to a meeting!
Fair Chance Project meets on the second Saturday of each month, from 12:30pm to 2:30pm, at Chuco's Justice Center, 1137 E. Redondo Blvd., Inglewood, CA.
Delicious BBQ!
Also, Fair Chance Project is hosting a delicious BBQ on August 1, 2015 at 2:00pm, at St. Andrews Park  Contact us or the Fair Chance Project office to buy tickets for just $10!  You'll get to meet the people who keep this great organization going year after year.